News
Uluru Koa III Solid Koa Tenor Ukulele Review – High Price Tag But Still Great Value ~ Reviewed by Omega Music
About Uluru
Uluru ukuleles are made in Vietnam, supervised heavily by luthiers who overlook the handmade production process. Autralian luthier Gerard Gilet has been engaged by Uluru's parent brand, Ayers Guitars, with each ukulele produced by hand by skilled makers – with no machine-based techniques. They also use the best quality tonewoods and materials, concentrating solely on mid-range to professional instruments. As a result, you have to pay for these ukes, no question – but for handmade quality, they are difficult to beat. For a long time particularly popular in the Japanese market, they are now developing an excellent reputation in the US, as well as here in the UK.
This is our all solid tonewood Uluru Koa III Tenor Ukulele Review.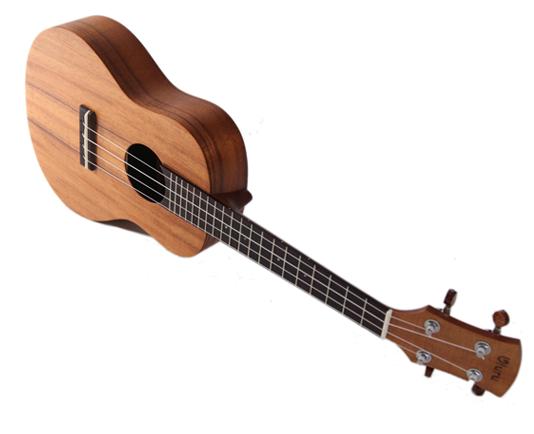 Appearance
The koa wood used in the manufacture of this uke is nicely patterned and extremely smooth. There is a satin finish, which adds to the tactile appeal, particularly on the thin profile neck. The finish is immaculate, not a glue mark to be seen, and the join between the solid top, back, sides and neck joints are flawless. This instrument is has a nicely etched Uluru headstock logo but otherwise is devoid of fuss, fancy binding or soundhole decoration. In some ways, you might expect that a ukulele in this price range would feature such decorative features, but it could be seen as reassuring that all of the price tag has gone on making the best instrument possible. The company do make higher grade models like the Pukana La and Lehua tenor models, which have a far more decorative work done, but you pay quite a bit more for this, and the Koa III gives almost as good a sound at a lower price.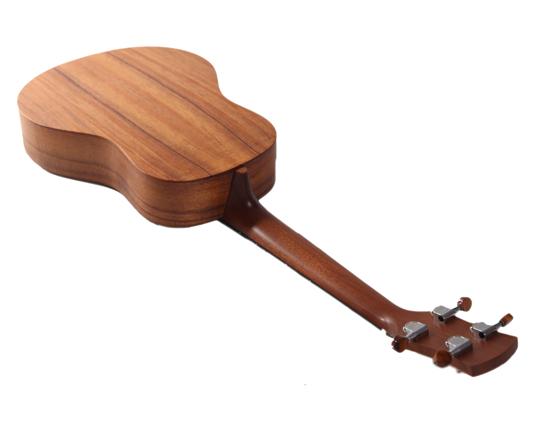 Set Up & Playability
While Omega Music do check and set up every ukulele where required, there is very little likely to be needed with this uke. Straight from the box, it is obvious that it has been looked at, tested, adjusted and set up correctly. The action is low and buzz free, which combined with the shallow profile neck makes for a very nice playing experience, with effortless fretting. The frets are well dressed and smooth, and although it is unobtrusive and difficult to spot, the neck is bound to make the fret edges smooth. This does mean that you have to pay more attention to the fret markers when choosing your finger positioning, as the frets are trickier to spot – but it makes the neck ultra smooth when changing position. It also features a compensated bone saddle and the intonation is spot on. Finally, a common issue with cheaper ukes is the nut height and tightness of the slots, which can lead to the lowest fretted notes pulling sharp. Clipping a tuner onto this instrument, you soon discover that there is no sharpness, everything is perfect.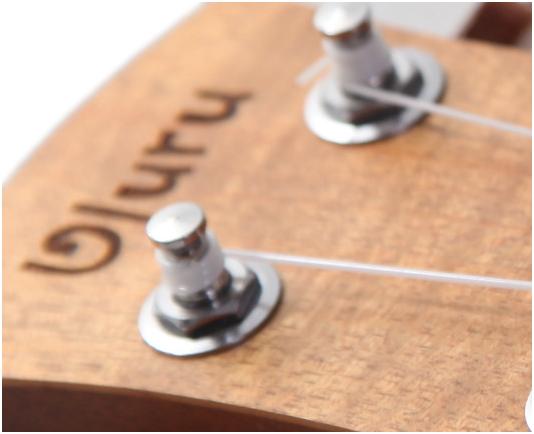 Tuning
This ukulele is fitted with geared tuners, not friction pegs. If you have a look online, and the Uluru site in particular, you will see friction tuners in evidence. Our pictures are our own, so if there are sites out there that show the friction pegs, then you'll know those pictures have been lazily copied and pasted from the manufacturer site. The closed, geared tuners are very effective, and once the strings have settled in, only very minor adjustments are needed when picking the instrument up after a break. The tuners are finished with gorgeous gloss Koa wood buttons, pushing up in the bracket of the most handsome we've ever seen! As geared tuners are heavier, this can mean the instrument feels slightly heavier and unbalanced, but the shallow profile neck compensate for this somewhat and it is easy and comfortable to hold.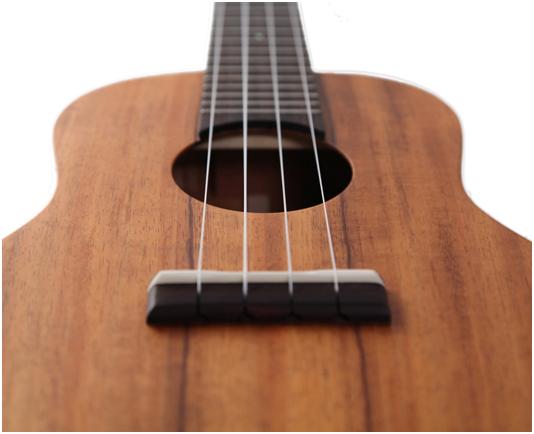 Sound
The Uluru Koa III should sound very nice at this price. Crucially, it really does! It has a relatively shallow body at 6cm, but quite a wide lower bout (24.5cm) and quite a large soundhole. Clearly, in the research and development stages of production, these combinations were experimented with and this gave the best performance. Certainly, the soundhole lets the sound out and it can be quite loud if you want, but has a subtle tone which performs nicely with softer strumming too. It is a uke that has a clear sweet spot for your strumming and therefore requires some competence in order to get the best sound. If you stray from the the spot on the edge of the soundhole, the difference in tone is marked, but then, strumming in the right place is not a difficult skill to learn!
This Uluru is fitted with Aquila nylgut strings and we've not tried it with different ones. We have a feeling that perhaps Worth clear strings may improve it further, but the sound is great with Aquila so it seems a shame to replace them right at the beginning. When fingerpicking, there is strong attack and each note is very well picked out, with a fuller, more resonant sound developing afterwards (milliseconds, but still….). This well balanced tone allows your solos and melodies to be easily heard, while still sounding full and impressive. The same effective is evident while strumming, with a combination of instant attack and a rich tone developing immediately after to give the sound balance. The Uluru Koa III is also very responsive to different strumming techniques. Using a fingernail the sound is more crisp and percussive, while using the pad of a thumb gives a rich melodic tone which resonates beautifully, almost bringing to mind an 8-string ukulele such is the fullness of tone. In all cases, the sustain is bold and sweet, thanks in part to the bone nut and saddle which approve the 'ring' of the strings.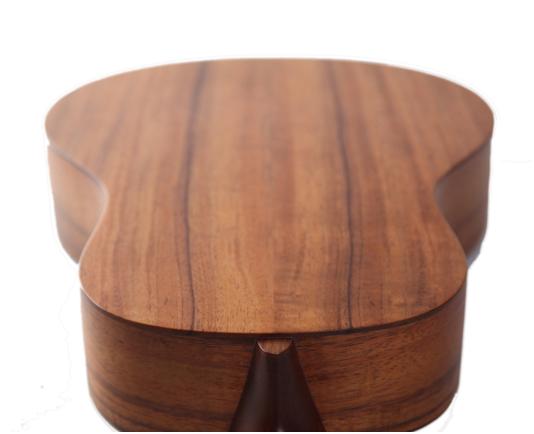 Conclusion
If you are just starting out with the ukulele, unless money is no object there is no need to splash out this much cash as a more advanced playing style is needed to get the most out of it. Combined strumming and fingerpicking really gets the most out of the great range of sounds this uke can produce, so it isn't neccessary for a new starter to pitch in at this level. If you are progressing from cheaper laminate ukuleles, again, you can probably make a significant improvement on your own instrument by looking at ukuleles in the £100-£200 range. That isn't to say you wouldn't love this one, just that the investment is significant so you don't NEED to have it. For the advancing player, the professional musician, the uke enthusiast or the recording artist we would have no problem in suggesting that the price of this instrument is actually very good value. For handmade quality and full, melodic tone, you may well have to spend double this amount to get the same performance from more famous brands (who tend to charge more just for the name). It is a wonderful tenor ukulele, that will delight anyone, but you naturally have to think long and hard about how much to spend. But if you take money out of the equation, if you love ukuleles you will love the Uluru Koa III.
---